For a while I have been putting Laetitia to bed using the routine of dinner, bath and stories. Recently we started to spend some time together in the bigger bed before I put her down inside her cot and I must say it is such a sweet and intimate time for the both of us.
We would lie in bed together and usually she will put her arms around my back and say "calin mummy" (hug mummy). We would talk about her day, sing some songs together and I will plant some kisses on her face and her nose and she will start to do the same. The biggest fun for her is to try to kiss me on my lips and sometimes the naughty bean will attempt to lick my face! Of course she will burst into laughters when I realised what she did and goes "yucks". And I would always tell her 'I love you Laetitia" and in reply she will say "I love you, Mummy". OH...... in her cheekiness, she would sometimes repeat after me and say, 'I love you Laetitia". LOL. Sometimes we do this to and fro for a couple of minutes. All in all it's about 10 to 15 minutes of loving time spent together before she gets put into her cot and have some stories told to her before she sleeps.
I know sometimes it's nice to be able to put her to bed and just leave the room but for now, I really enjoy this precious moments.
Here's some photos taken recently.
On the train to Treuzy-Levelay with her papa. We were on our way to Damienne and Gilles who are the god-parents of Sophie's dad, Fabien. We spent some fabulous time at their house last year and were invited for lunch on New Year's eve. It was really wonderful seeing them again. And great catching up for Sharon and I.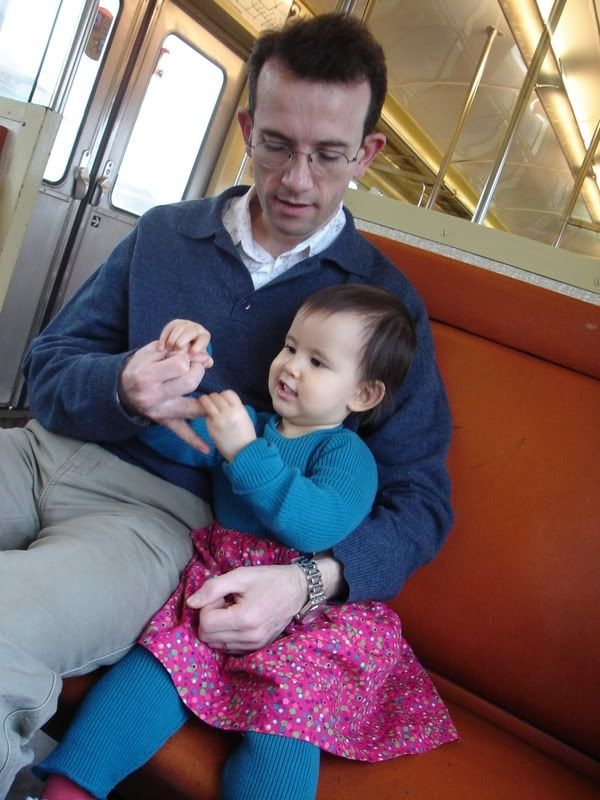 With her friend Sophie (whom she meets once a year). The
last time
was December 2005 and this was on New Year's eve.