We've had a very packed schedule with lots of lunches and dinners set up. It's been a little crazy and thanks to the use of Jaimie's car and Michelle's car seat, I have been able to take the little one with me to lunch appointments and come back by 2pm for her nap. Sometimes I would go out while she nap for some "me time" before rushing back in the late afternoon to go for a swim with her or some play time before heading out together again for our next dinner appointment.
In the last few days, we met up with my aunties and uncles, cousins and ex-colleagues. Funnily most of our meals are taken in restaurants. We also had some breakfast outside in a coffeeshop, Killiney Kaya toast and MacDonalds. In the middle of all these eating feast, I also managed to bring Laetitia to a little amusement area to enjoy some kiddy rides.
Here she is with her uncle (my brother) who has a little yellow bird resting on his hand and her cousin Valerie.
With my cousin-in-law, Joanne and Valerie. Yes, Laetitia and I are wearing the same dress. :p
Just the two kiddos.
A picture of all the uncles she met that day. This is made up of two extended families, my dad (with my brother, sister and myself) and my dad's second brother's family (with my three cousins). As it was Father's Day, one of my cousins bought a cake for all of the dads and we had them stand together while we made up a Happy Father's Day song (to the tune of Happy Birthday Day).
From left to right, my eldest female cousin's hubby, my dad, my uncle (dad's second brother), my cousin Jason, my brother and finally my cousin Thomas.
With my Godma/auntie (my mum's younger sister) and uncle Peter. They bought us dinner at a yummy Taiwanese porridge place on Amoy Street. I love love love the raw cockles. Food aside, Laetitia got on very well with her "Grand" Uncle Peter.
Here we are with my ex-colleagues from the long ago days in Visible Results (the last company I worked with in Singapore).
Here's one with my sister's family dog Rascal. Lae loves Rascal. Every morning she would look for me and want to caress him.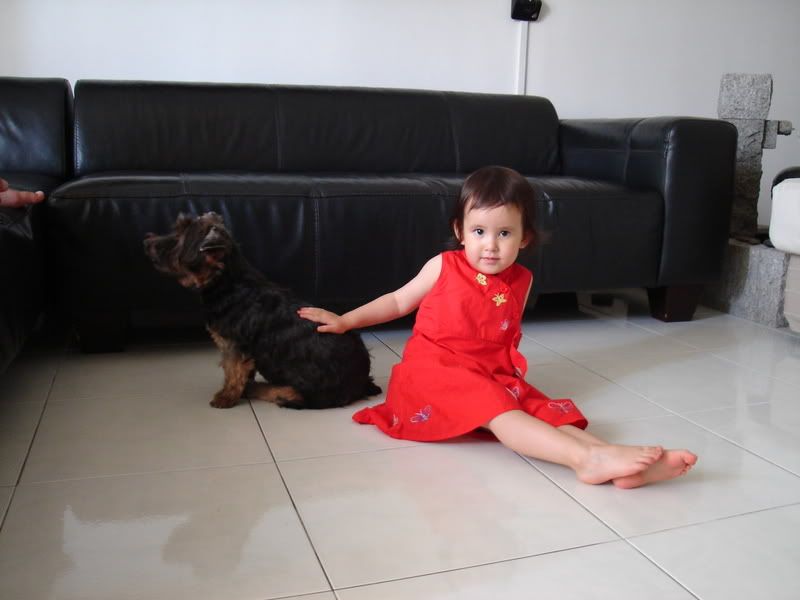 And finally the photos of her on all the rides she took a couple of days back.