Laetitia made a new friend Sophie last Tuesday.
Sophie's mummy,
Sharon
and I have been communicating forever via email but we have never met. We got to know each other on an online forum for brides in Singapore. (I, infact, have many friends who I met online and stayed friends with). We were then both active in a thread sharing experiences for brides who has a caucasian husband-to-be and were planning for their overseas weddings. We managed to hit it off and kept in contact since. I have invited Sharon to come over to Paris to spend a few days with us and they finally took up the offer.
So, on Tuesday, Sophie arrived in Paris with Sharon. They were going to be with us till Thursday. During the time they were in Paris, the little ones had lots of fun getting to know each other and we even managed to visit the new
Musee du quai Branly
and stop for a relaxing "chocolat froid" in a cafe.
Here's a picture of the two little ones chilling out while their mummies chat away about their sleeping habits, parenting styles, the silly things the much loved munchkins get up to etc etc.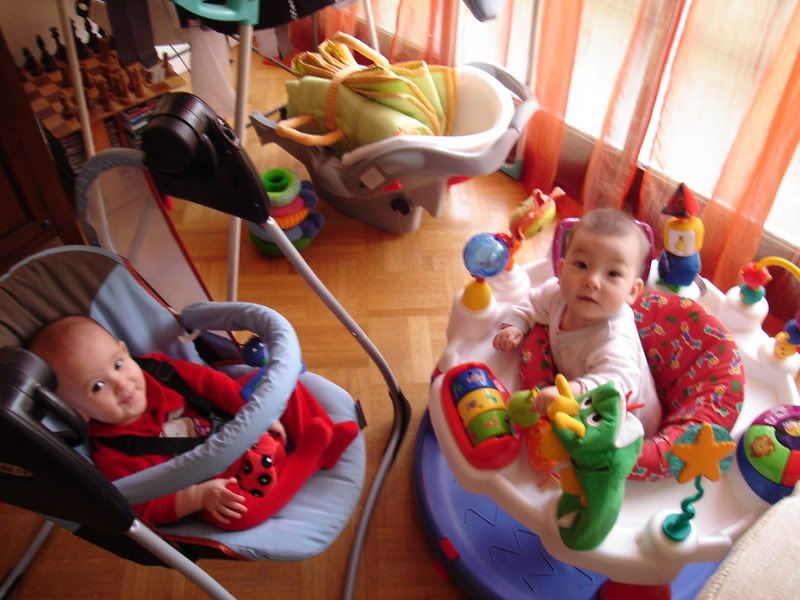 They spent 2 nights with us before departing for
Treuzy-Levelay
(a beautiful countryside area just 45 minutes away from Paris by train) for the house of Fabien's godfather. We then met them again there on Saturday and spent another wonderful day with them and their family (Gilles and Damienne).
I wished I had taken more photos but had managed to leave my camera somewhere where it was not easily accessible for most times. Sharon did manage to take more photos and I'm sure she will post them once she settles.