I love this adorable little T-shirt that one of my sister's friends gave to Laetitia. It's an Old Navy tee that says "PINCH ME I'm cute". It is really suitable for Laetitia as I have been "warned" by family and friends back home in Singapore that they are eagerly awaiting the day we get back to pinch my cutie pie's butt or cheeks. I'll make sure she wears this tee when she sees the people who have been saying that they want to pinch her cos she is cute! Hahaha. Aside from being spot on for people who wants to pinch her, the tee looks fabulous on my little butt butt. Yes, I've lots of nicknames for Laetitia.... little butt butt, little put put (like poo poo but said in a singlish way) etc.
So, do you think she looks good with the tee?
Miss little chubby cheeks!
Getting very excited at seeing her mummy! Moving her hands vigorously.
Opps! You're talking about me?
Chilling out. Yes, I know I'm cute. You can pinch me.
I told you I'm cute. :p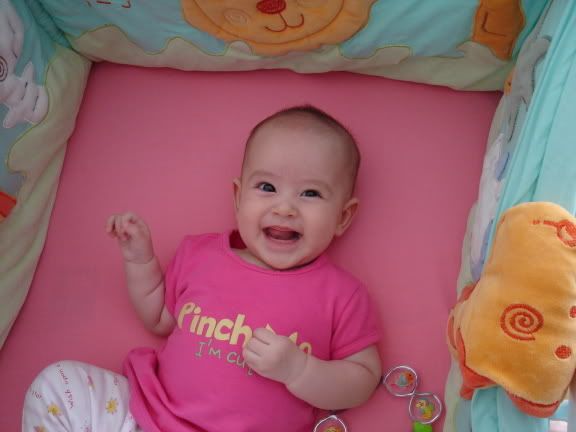 And now that my mum is able to access the internet and take a look at this site, there will be even more photos being put up (not that I was not already doing that!). It's just that I will probably be flooding this blog with more photos. Be forewarned!