I have always been against the idea of giving Laetitia a pacificer/soother because I dislike seeing older children being reliant on it. However, 2 days ago, I gave in and bought one. Why oh why after holding it off for 11 weeks I finally cave in? Simply because from sucking her fist/back of her hand/wrist, she had progressed to sucking her lower lips. I got worried because I felt that it would affect her appearance! How superficial can this mummy get? I was worried that if she kept sucking her lower lips, it would thin out her lips. I am not sure if there is any possibility of that happening but it was enough to prompt me to buy a pacifier.
This is usually how she looks when she sucks her lower lip.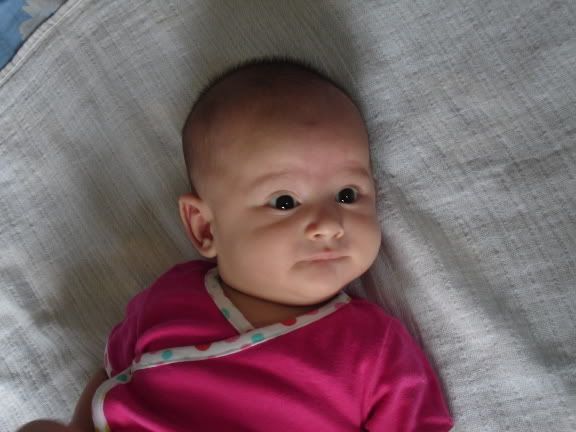 So yesterday I tried giving her the newly bought pacifier and she kept spitting it out of her mouth. I was thinking, oh, maybe she does not like it. Anyway, this afternoon she was a little cranky trying to take her afternoon nap. She kept trying to suck on my arm when I was carrying her so I decided to try the pacifier again and held it in her mouth for a couple of minutes. And it worked. She sucked on it and promptly fell asleep. Once she got used to sucking it, it took her barely 2 minutes before her eyes closed and she was in dreamland. Once she was sound asleep, I quickly removed it from her mouth, however, not before taking two photos! She looked so cute with the pacifer though. I resolved to only use the pacifier when necessary (meaning only for sleeping time to help soothe her to sleep). I hope this post will help remind me not to cross the line of becoming dependent on the soother too much.
Here's my cutie pie with her pacifier.