I love to take naps with my baby in the afternoons. Normally, we'll sleep together on my bed for her 3ish-5ish pm nap. It's one of the wonderful moments I share with Laetitia. It's nice sleeping holding her little hand or just placing my hand on her belly. I believe she enjoys it too for she seems to sleep very well and very deeply during this time. I think the close proximity is soothing for her. She knows her mummy is close by and she feels secured. Here's some pre nap time pictures.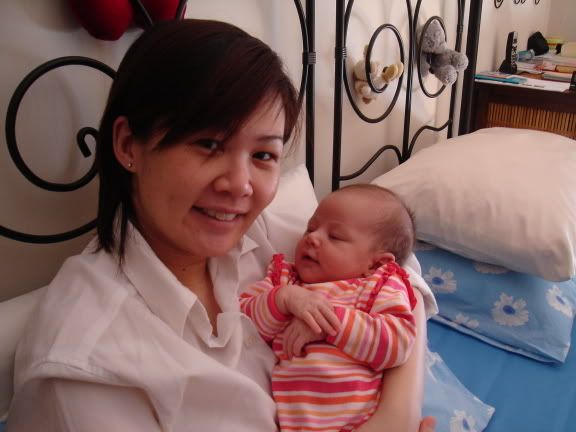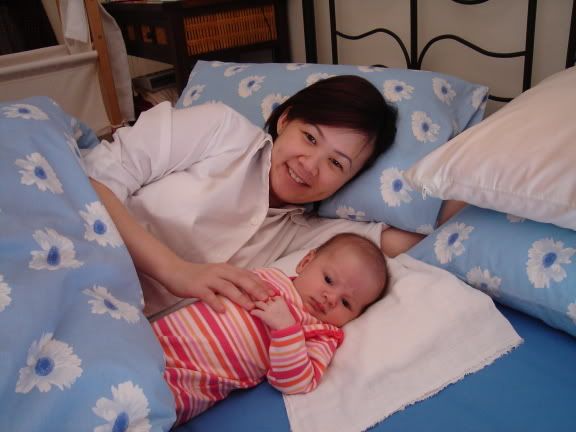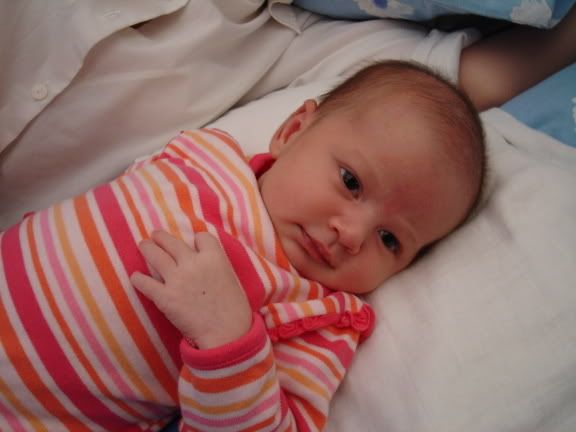 The last couple of days passed really quickly. We had a few visitors on Saturady. Wendy, Frank and Alicia were here in the evening. I had invited them for Laetitia's first month celebration but Wendy will be away in London and Alicia will be back in Singapore so they decided to come over this Saturday to see my little darling. Later in the evening, Philippe came over for dinner and of course to see Laetitia as well.

Today we tried to go out to the park. I say "tried" since just as we were going to step out of the building, it started to rain! Sigh, after spending the afternoon waiting for Laetitia to wake up, nurse her, put on extra clothes for her, put her in the stroller, strap her up and finally getting out of the house, we were unable to go to the park afterall. We eventually just walked up and down the hallway for like 5 mins before giving up and going home. I guess I'll try again tomorrow. The weather is beautiful these last few days and it's a waste to spend the entire day at home.