Laetitia took her first little trip 2 days ago. We went to Toulouse for Anne and Nico's wedding.
On Friday morning, I woke up especially early to make sure that we've got everything prepared for the train journey. This includes nursing my little darling, making some sandwiches, checking that the diaper bag has all the essentials etc. I was calm considering that this is the first time we are travelling with a little baby. We put Laetitia into her car seat, attached it to the stroller and were ready to roll!
Everything progressed smoothly. We arrived slightly early at Montparnasse train station and I had time to go get some pastry and a drink for the ride. We quickly found our seats and settled in. Laetitia had a seat of her own as we had bought her a Carte Enfant+ which entitles her to a seat everytime she travels on SNCF trains. Well worth the 60 euros we paid as I soon discovered how convenient it was to have a seat for her. Here's her being all happy and contented in the train.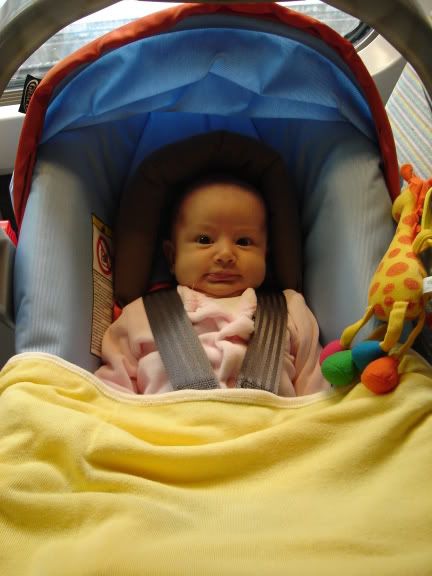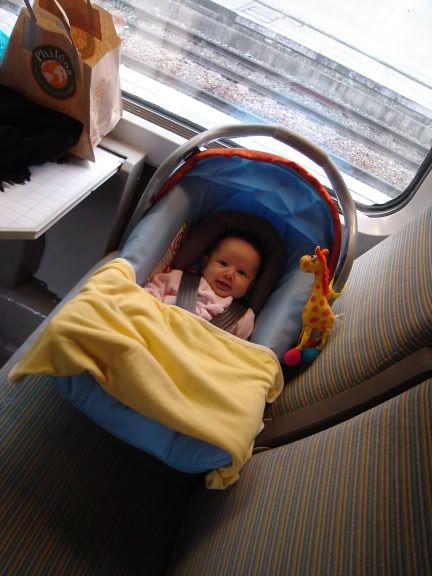 She was well-behaved during the 6 hrs plus journey. She did fuss a little on and off but which two month old baby won't? When she would cry a little, either one of us would carry her and walk around a bit to help calm her down. All in all, it was rather enjoyable. Finally we arrived in Toulouse where maman and papa were waiting for us. They were very happy to see Laetitia and us. Papa drove to the hotel in Colomier (a town slightly outside of Toulouse) where my darling could finally stretch her arms and legs. She loves it. I don't think she enjoyed being confined in the car seat too much. We relaxed for a while in the room before bringing Laetitia over to Papa and Maman's room.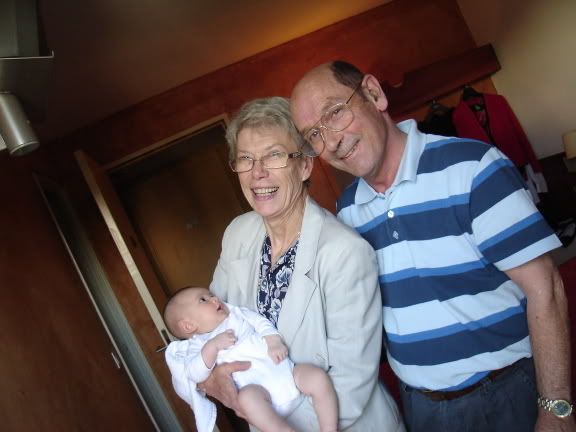 The next day, we got up early as the wedding ceremony starts at about 10.30am in the Mairie. Laetitia had on a pretty Jean Bourget green dress and cute little Robeez shoes. She looked so chic.
The wedding was beautiful. After the civil ceremony in the Mairie, we went to the church for the service. It was a very pretty little church and the reception was held at the back of the church where there was a huge garden/open space. I did not take any pictures of the afternoon with my camera so we will have to wait for either Emmanuelle, my sister-in-law, or my parents-in-law to send me the photos they took. Once I have the photos, I will blog Part2 of the trip.