Tomorrow is Mother's Day for certain countries like Singapore, Australia, US, Canada etc and since my mum is here, we decided to celebrate it with her. The French celebrates Mother's Day on 28 May this year. I guess I will get to have two Mother's Day and therefore two presents! We choose to celebrate it a day earlier as there's church tomorrow and it might just be too much activities in a day for Laetitia if we were to make the trip to church and then go out again for dinner on the same day.

We took mum to one of the big Chinese restaurant in Belleville called
Le Président
. This is one of the restaurant we know of that serves Peking duck. We wanted it to be a little treat for mummy and since she likes chinese food, we thought this would be a good choice. We offered to take her to try other cuisines but she said she preferred Chinese food. So Chinese it is!

We ordered half a Peking duck, a seafood dish (scallops and prawns) and mango chicken. Mum thought it was very interesting that they pair mango with chicken. While waiting for the food, we took a couple of pictures for remembrance sake.

Three generations... Mummy, me and baby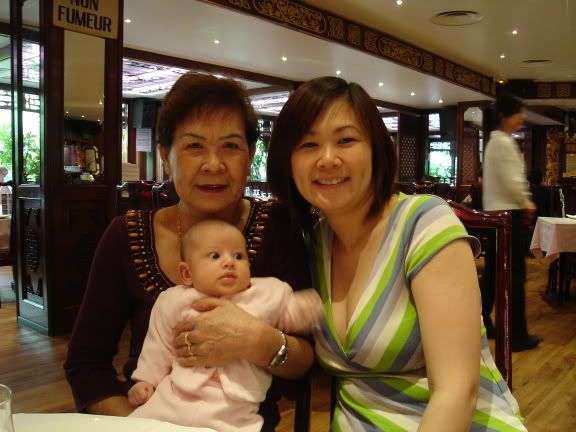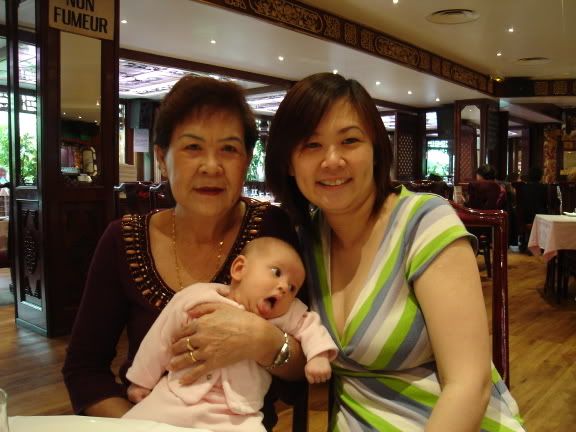 The Lastennets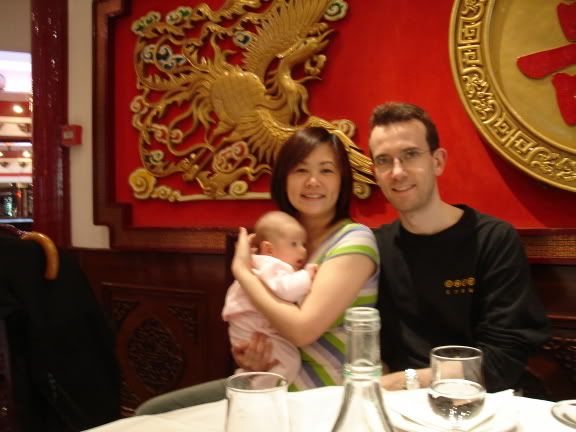 After dinner, we took the metro home and gave mummy her presents. We got her two presents, one was a photo album filled with Laetitia's photos which we got developed at a photo shop and another was a little vibrating massage cushion. Mum loves the presents and was especially happy with the photo album. I'm glad to be able to spend my first Mother's Day as a mother with my mum. Now that I am a mother myself, I have a deeper sense of appreciation for my mum and her sacrificing love for me. I love you mummy.