Today Laetitia is two months old! And boy oh boy is she growing fast. At her last doctor's appointment almost 2 weeks ago, she was measuring the size of a three month old baby. See this
post
for specs for her measurements.
At two months, these are the things she can do:-
1) Smile in response to my smile
2) Shouts or say "ah... goo.... maa..." etc
3) lift head 45 degrees when on tummy
4) hold head steady for a couple of seconds when upright
5) Gasp a rattle
6) Reach for an object
7) Laugh out loud
8) Follow an object and move head one side to the other (180 degrees)
9) Bring both hands together (see picture below)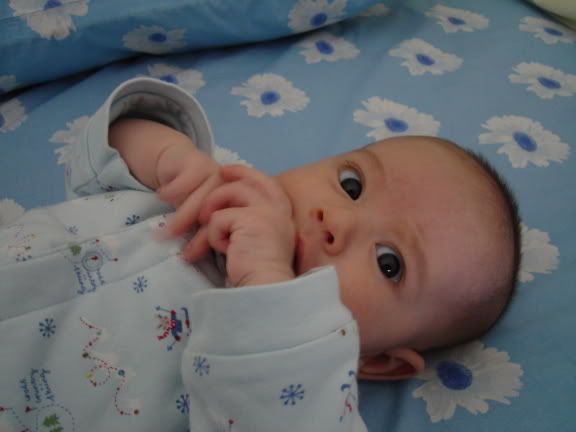 Well, at two months, she has also been struck with her first aliment.... the common cold, passed to her by her lovely parents. It is so tough seeing my little darling struggle to breathe when her nose is blocked. She has also been sneezing and coughing a little. I hope she recovers soon. She has been a tropper though, just trying her best to breathe properly and only crying a little when it gets too bothersome for her.
Here's some pictures for the fun of it!